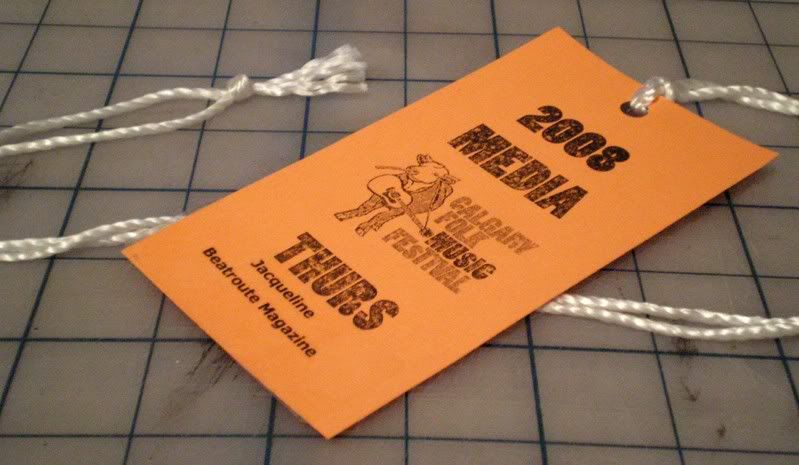 Last night, Thursday the 24th, I had the most amazing musical experience. Because Dario and I did that article about The Weakerthans for the July issue of BeatRoute (I had mentioned it here), we were offered free passes to the Calgary Folk Festival for Thursday night. The line up featured Master Musicians of Jajouka, The Weakerthans, Aimee Mann and the Sam Roberts Band. When we got to the festival, we were just expecting a regular wrist band, but we were directed to the west entrance where we were met at the gate and brought to the media tent to pick up our media passes. It was so unexpected - I couldn't believe it when the lady brought us in through the back. We were free to wander around back stage. Back stage.
The Weakerthans had just started to play when we got our passes so we headed over to the stage in a daze. I couldn't believe I was watching my favorite band from right next to the stage. I had the biggest stupidest grin on my face the whole time. There weren't even many people standing there watching - 5 to 10 at any given time. It was great. A little while after their performance was over I got to meet Stephen Carroll and chat with him. But then security made him go back into the private area for musicians because he was drinking a beer. I was glad to talk to him since he was the guy I had interviewed by phone and he remembered me too. I also got to talk to Christine Fellows, John K.'s wife, who is a really cool musician too. I actually just recently discovered her stuff and really like it. She was great, really friendly. She and I have almost the same wedding band - she's not into diamonds either.
I was hoping to meet John K. Samson, but I didn't see him hanging out in the media area. I only saw Sam Roberts from a distance. I did get to talk to the singer for the Great Lakes Swimmers. And the guys from Bedouin SoundClash were standing right next to Dario and I at one point. It might not sound like much, but I've never been in the presence of so many cool musicians before. I felt really fortunate and was really just in awe of the situation the whole time. I'm still smiling from the experience.